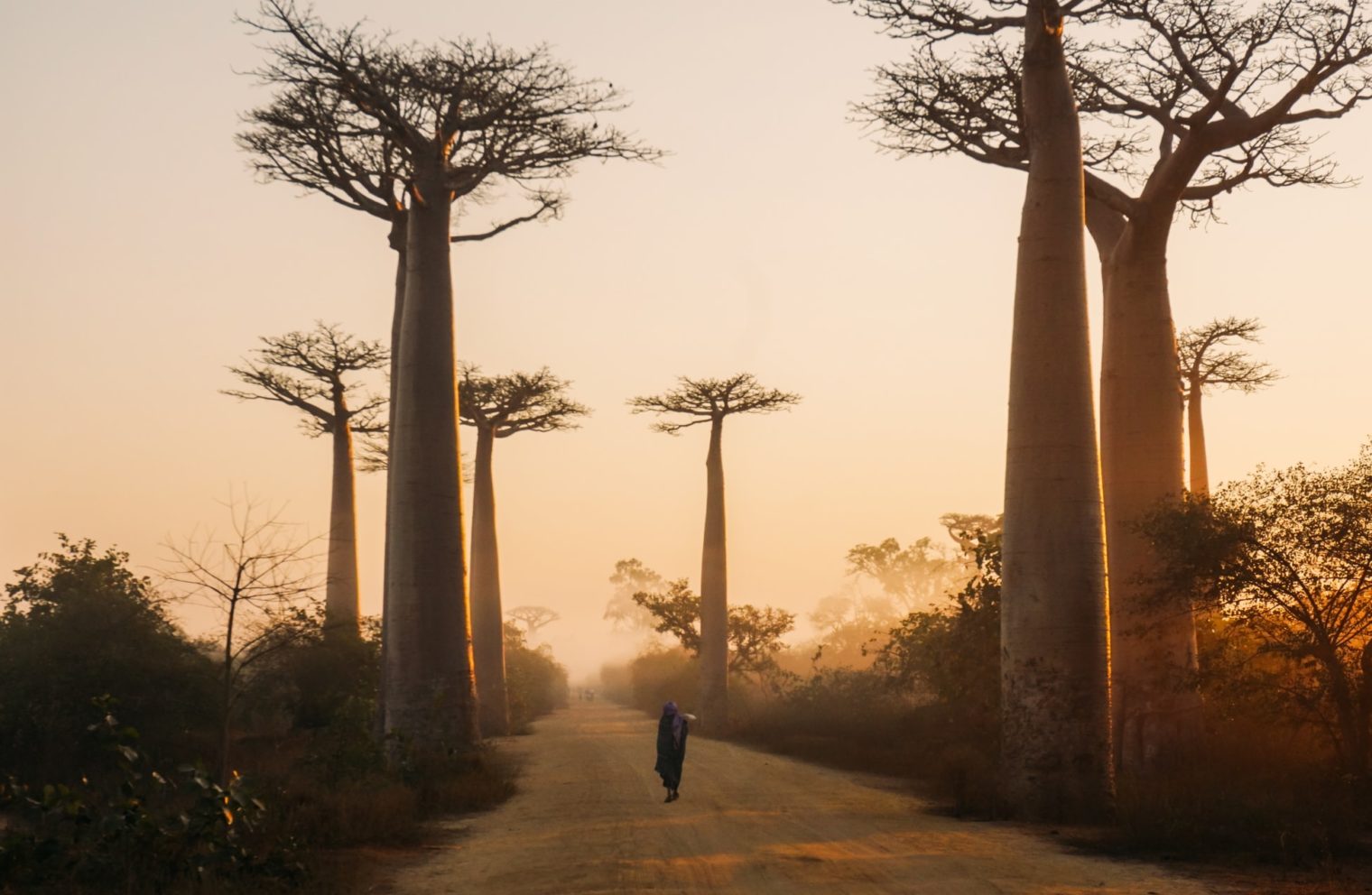 WEST TOUR
Beautiful colors of the West
MORONDAVA MADAGASCAR
Natural space without equal in the world
WEST TOUR
Live a wonderful adventure by discovering the colorful landscapes of western Madagascar.
This is the part that shows the most popular image of the island continent through the existence of Big Tsingy within the Bemaraha National Park and a multitude of Baobabs. The down of the Tsiribihina River by boat offers another unique way to get there.
Feasibility: April to November
Best season: July to October
Highlights
A unique landscape of the southern part of the island
Rice fields in Terraces
Visit of the colonial town of Antsirabe
Cooking Pot Manufacture of Ambatolampy
Crafts Markets
Volcanic landscape
03 Days of navigation through the Tsiribihina river
Bemaraha National Park
Sacred Baobab and « Baobab in love »
Sunset in the Baobab Avenue
Natural swimming pool, waterfall
Cultural Discovery
ITINERARY
Day 1: Tana
Day 2: Tana – Antsirabe (170 km)
Day 3: Antsirabe – Miandrivazo
Day 4: Miandrivazo – Descent of the river Tsiribihina
Day 5: Descent of the river Tsiribihina
Day 6: Descent of the river Tsiribihina – Bekopaka
Day 7: Bekopaka
Day 8: Bekopaka – Morondava
Day 9: Morondava
Day 10: Morondava – Tana (Plane)
Day 11: Tana – Departure
DAY 1
Antananarivo
Airport reception
City tour of Antananarivo and after installaAirport reception and transfer to hotelAirport reception and transfer to hoteltion at the hotel
DAY 2
Antananarivo - Antsirabe
Early in the morning after breakfast, we will take the National 7 to Antsirabe. A good road through highlands and beautiful green rice fields.
Stop in Ambatolampy (75 km) to visit famous cooking pot manufacture.
Arrived in Antsirabe, after lunch, we will visit some workshops and craft markets (embroideries, miniature, zebu horns…).
Not forgetting the time to walk through the nice town center and take a rickshaw ride around town.
Overnight at Hotel
DAY 3
Antsirabe – Miandrivazo
After breakfast, we'll continue our trip with a visit to the sacred -volcanic lake of Tritirva, lapidary and silk weaving.
After that, we will continue our trip to Miandrivazo and for the rest of the day, we'll be traveling through a volcanic landscape. In the evening we can relax at our hotel in Miandrivazo.
Overnight at hotel
DAY 4
Miandrivazo - Descent of the river Tsiribihina
Here we will start the calm water river journey on the majestic Tsiribihina River.
You can sit back, relax and enjoy a beautiful landscape and many kinds of wild animals like herons, wild ducks, parrots, raptors, kingfishers, chameleons, insects, and butterflies.
We shall see the gorge of Bemaraha with its lemurs and the marvelous sounds of birds. In the afternoon we will have a shower under one of the best waterfalls in Madagascar: "Anosin'ampela " and its natural swimming-pool.
After this nice waterfall, we continue our cruising toward a "Sakalava" traditional village where we will be setting camp on a sandbank, build a fire and cook your dinner.
Overnight camping
DAY 5
Descent of the river Tsiribihina
Pass through the second gorge of Bemaraha where you can see bats and crocodiles and before a good night's sleep, enjoy dinner on a traditional animation from the local population.
Overnight camping
DAY 6
Descent of the river Tsiribihina – Bekopaka
At Belo sur Tsiribihina, we arrive at the end of our motorboat trip and right after the lunch break, we'll be heading to Bekopaka by 4*4 vehicles.
Overnight at hotel
DAY 7
Bekopaka
Visit the Great Tsingy. Tsingy of Bemaraha is a Unesco World Heritage Site and one of the biggest protected areas in Madagascar.
Enjoy a trek through this remarkable geological phenomena. The visible vertical drop can be quite intimidating especially for those with vertigo.
Animals lovers can look out for some species of lemurs, birds species and endemic reptiles and amphibians, including the Madagascar iguana and Antsingy leaf chameleon.
Overnight at hotel
DAY 8
Bekopaka – Morondava
We will travel south by 4-wheel drive to Morondava. Have a lunch break at Belo Tsiribihina and see many Baobab trees along the way. Endemic to Madagascar, the Baobabs can be up to 800 years of age and reach heights of 98 feet (30 m). The diameter of the larger trees can reach up to 36 feet (11 m) and the circumference can be up to 160 feet (50 m) around.  There is plenty of time to take photos and enjoy the landscape. We will catch the sunset at the 'Avenue of the Baobab' between Belo sur Tsiribihina and Morondava.
Overnight at hotel
DAY 9
Morondava – Antananarivo (by plane)
Come-back to Antananarivo by plane.
Transfert to the hotel.
Free afternoon
DAY 10
Antananarivo - Departure
The last day will be dedicated to shopping at a special open market in Tana. Then transfer to the airport according to the flight schedules.